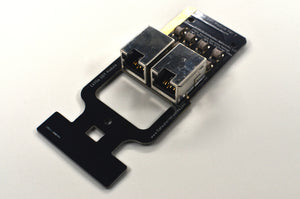 Fits in APC PRM4 or PRM24 Chassis.  (The far left and right slots on PRM24 chassis have screws that need to be removed in order for this module to slide all the way in.)
Add some Static and Lightning surge protection to your Ethernet equipment, uses single pole 75V Gas Discharge Tubes.
Chassis not included.
No warranty or guarantee of protection. This is just another layer of protection for your system.
Shielded CAT5e Connectors to help ground your cable shielding, I like using with RF Armor or Ubiquiti shielded RJ45 connectors with the crimpable shield.
Gold plated contact surfaces on board.
Pins on back coated with a conformal coating to prevent insects from shorting out the pins.
Area to affix 1/2" label tape for cable documentation.
Locations to zip tie your cables in place to help prevent them from pulling out while doing network maintenance.
Field tested with 24V, 48V and 48VH Netonix switch outputs and Mimosa 56V 0.93A Power Injectors.
Works with PoE Powered IP Cameras as well.
Don't insert/remove module if powered up, it's easy to accidentally short the pins out on the chassis or other modules.
This product is discontinued so I can stock more of the more popular CAT6 Version.